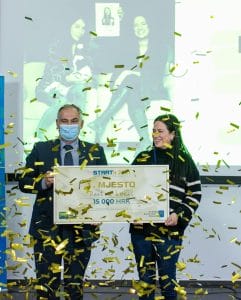 Startup Rent a Local, Anđela Prnjak, is the winner of StartIT 2021. Startup Academy, an eight-week training for new IT entrepreneurs, which is organized for the third time by ICT County and local startup community Digital Dalmatia and its partner Lean Startup Croatia, with the support of numerous successful startups. This year's academy brought together 12 teams, trained and guided by 12 mentors, 8. and the final part took place on December 8 and 9, when participants presented their projects at the "StartIT Demo Day" at SPINIT Technological incubator in Split.
Second place went to Sportever, and third place went to five startups: 1st Adriatic Quest, 2nd Info Point, 3rd DonatQR, 4th SyncBook and 5th Crowdhome.
The best received cash prizes for starting a business. 15,000 kuna went to the winner, 10,000 kuna to the second place and 5,000 kuna each to the five teams that took the third place.